I'm mad. I'm very VERY mad.
It's not just one of those things where I get a little bit ticked off. No, I'm actually mad at people in the film-making business who are making "kids movies" these days. Almost every "kids movie" in the last few years has involved adult humor in order to make it "funny," as if that's the kind of stuff that "kids movies" are made of. I've mostly just brushed it off, and enjoyed the few kids movies these days that actually at least TRY to tell a story for kids (seriously, watch The Peanuts Movie, it's great).
But then this happened:
I'm sure most of you have seen the trailer for this piece of trash already, but in case you haven't, here it is (though if you don't want a fond childhood memory to be permanently scarred, then I suggest you don't):
Now, Peter Rabbit is not officially a fairy tale, but this is one of those rare cases where I break from tradition and consider it a fairy tale anyway. I mean, just think about it. It (as well as the other stories by its author, Beatrix Potter) has nearly all the elements that make a fairy tale (apart from magic):
Morality lessons, sometimes to the extent of nightmarish events happening.
Talking animals.
Magic (at least as far as The Tailor of Gloucester is concerned)
Characters that do something stupid and then learn their lesson at the end (okay, this happens in a lot of modern stories too, but it is also common in folklore).
They have elements that I barely glimpsed at as a kid. but when I read them now I am genuinely shocked.
I don't even want to go through the entire list. These stories are freaking folklore without technically being folklore, and they are still awesome when I read them as an adult. Therefore, this counts as a fairy tale on my blog. (Ever since it hit the public domain, it's been popping up in multiple fairy tale books anyway, so I think my opinion is safe)
For some context, I must explain my history with these stories, and how big of a role they play in my childhood.
I had this book as a kid (and I still have it):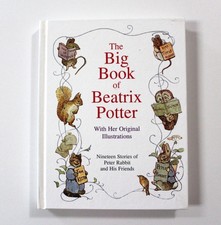 I don't know how I got that book, but I assume it must have been given to me by my maternal grandmother, because she had the exact same book at her house. And these stories are some of the earliest I can remember being read to me (possibly before The Three Bears, but I can never be sure).
Now, if you haven't heard The Tale of Peter Rabbit before, then here's what it's about:
A young rabbit named Peter disobeys his mother, and goes into Mr. McGregor's garden, where he is chased around, then gets lost, loses his clothes, and then finally finds his way out and learns not to be so foolish.
Yeah, a summary isn't ever going to do this story justice. Go read the story yourself if you haven't. And afterwards, also read The Tale of Benjamin Bunny. The story is incomplete without that story immediately following it, and I just don't want to imagine a world where such a sequel doesn't exist.
So, these stories were some of my favorites back in the day, and that's probably the reason I also watched this video to death (yes, it's another Golden Book video):
I absolutely love it. Of course, Beatrix Potter's original illustrations are still thousands of times better than Amye Rosenberg's illustrations will ever be. The cartoony feel of the Rosenberg illustrations is cute, but there's just a certain element of the original illustrations that I've never seen captured by any other artist; very surreal realism. I know that sounds goofy, but that's the best I can describe. Potter designed very realistic looking animals, and still made them identifiable the sympathize with.
I mean, just look:
One of my favorite illustrations is of the moment where Mr. McGregor's cat is approaching the basket that Peter and Benjamin are hiding in. It has a very foreboding feel to it that I even noticed as a kid.
Not only did I grow up with the books and the Golden Book video adaptation, but when I visited Grandma, she had a VHS tape called "The Tale of Peter Rabbit and Benjamin Bunny." This adapted the two stories into a twenty-five minute long animated movie. And I think I speak for nearly everyone when I say it's still the best adaptation of the stories. Heck, it even uses the same designs from the illustrations. If you pause the movie in the right places, you'll literally be looking at a recreation of an illustration.
The same company also made adaptations of some of the other stories, and my Grandma had some of those too. Eventually, my Mom bought copies of the episodes, the unfortunate thing being that most of character voices on the versions she bought for me to watch at home were re-dubbed by American voice actors (I can't find footage of the American dub, but it's not as good as the original, trust me).
So I watched these videos, and they are still movies that I will get out once in a while and pop into the VCR just for the sake of re-living my childhood.
And then, about a year ago, I heard the news of a new adaptation that would use a combination of live-action and CGI.
Now, I knew from the start that no adaptation made today is going to be out the animated version that I watched as a kid. It's literally impossible. These stories have a lot of things in them that would never be allowed in kids movies today:
Smoking
Corporal punishment
And lots of other things. Not to mention the fact that the villains in the stories are never ever taken care of. The villains always get away scot-free (though in a couple of cases, particularly in "The Flopsy Bunnies" and "Mr. Tod," the villains are comically humiliated). In one of the most nightmarish stories of the collection, "The Roly-Poly Pudding" (which is about two rats wrapping a kitten in dough and butter with the intention of eating him), the two villain rats are specifically stated in the text to go and bother someone else at the very end of the story (though the two obedient kittens from the story at least show some justice by capturing their children, though the one the rats tried to eat remains traumatized for life). None of this stuff bothered me as a kid, but looking back on it as an adult really has me scratching my head about why this kind of stuff happens in these stories.
But, despite this, I told myself that a new adaptation of the story, whether or not it was sugar-coated or not, would still likely introduce this current generation to the classic story.
And then the trailer came out. I clicked on it, and for the first ten seconds, I was pleased.
Then, after those ten seconds were over, it became instantly clear that the filmmakers were crapping on the classic, and telling a stupid, generic partying story with adult humor.
It's just all wrong. Peter Rabbit is not the partying type. Mr. McGregor is supposed to be a grouchy old man who the characters are afraid of, not a stereotypical screaming young man. Every single freaking thing about the trailer is wrong, the worst part being the very end when it says "Peter Rabbit," for the simple reason that giving this movie that title is insulting.
If the filmmakers want to tell a story like that, why do they have to use Peter Rabbit, a character completely unrelated to this kind of story? Like, why don't they instead make an adaptation of freaking Pigs in the House, which is much closer in spirit to the kind of movie they are making?
I wish I could have recorded my reaction to that trailer, because no one else besides one of my brothers was there to see my reaction. And I can tell you, it was the worst reaction to a trailer I have ever had. I could have been listening to it with headphones in while in class, and every student would have known that I was seeing something appalling, just from the facial expressions I made.
I was at a loss for words for nearly an entire day after that, and I still can't believe this is happening. I'm still waiting to either wake up and discover I'm having a horrible nightmare, or for the filmmakers to finally reveal that the trailer is just a joke, and they don't seriously intend to make this awful film. If someone from this year had time traveled to me a couple years ago and told me this movie was happening, I'd have thought they were pulling my leg, because I just can't see someone having the nerve to do this to the story. But, unfortunately, it IS happening. This movie is going to get made, whether I like it or not. And it is going to suck.
Will I ever get over it? I don't know. These kinds of things can scar me for life, and it is truly the most appalling thing that I've ever seen on YouTube.
Now, if you'll please excuse that long rant, I need to go to bed and get some rest./